The growth of remote and hybrid companies has been rapid, and studies show that the number of people working remotely has increased by as much as 44% in the past five years.
If your company is among us, increased efficiency and lower expenses are coming your way. But, remote companies have challenges with communication and hiring.
These processes function differently than in traditional companies. Employers often feel uncomfortable with hiring a person that they haven't actually met, and proving the competence of the applicants might sound impossible in a remote environment. 
However, remote interviews can be just as effective at evaluating candidates and bringing top talents to the company.
Online vs. In-Person Interviews
If you're running a remote company, there's a high likelihood that your interviews will happen online rather than in person. 
When you do a job assessment over a video call, you miss the opportunity of gauging someone's expertise that you would have in a face-to-face setting. 
In-person interviews also allow you to get a better understanding of the candidate. If the role involves communicating with customers or clients, you can evaluate their social skills more effectively than in an online interview. 
On the other hand, online interviews give you more control over how the hiring process will unfold. Software tools that allow you to quickly check the candidate's portfolio, a list of questions for the interview, and a notes app are some of the basic tools you are free to use during interviews. 
But the main challenge in remote hiring isn't testing the technical skills and the mindset of a candidate but making sure that they are aware of the very nature of remote work. Flexible workspaces allow more freedom for employees to organize and perform tasks. This requires them to have additional organizational skills and a greater sense of responsibility.
While it's the candidate that's being interviewed, the impression you make is still quite important. 
If you appear unprepared for the interview, you can make them rethink whether they even want to work for the company. 
To prevent this problem, you should do these three actions in advance: 
Test whether your tech is properly set up

Have questions on-hand

Review candidate resume in advance

Check whether your software and hardware are working before you start the interview. An individual that you're interviewing can be dissatisfied if it didn't begin when scheduled or if you're having technical problems. 
There are remote work tools that offer screening, questioning, and onboarding features, which can be quite useful for remote interviews. However, if you're utilizing such software, you should make sure that you're familiar with all of its tools.
If you know how to make the most out of the hiring software you're using, you'll make the most out of your interview time as well.
You shouldn't dwell only on questions related to the job role.
To better understand your candidate, you should ask about their overall career goals and motivations. Personal inquiries are also important, as they can help you connect with your future employee on a personal level. You can even use ChatGPT to help out with creating proper questions!
Overall, you must have questions prepared in advance, and you shouldn't rely on improvising too much. 
When hiring remotely, it's crucial to understand whether the employee has previous experience working from home. 
2. Avoid Overbooking & Track Time
Interviewing candidates can take time, and it's essential that you are realistic about how long each interview is going to last.
If you have one interview at 12:00 and another at 13:00, you'll likely won't be able to make proper preparations for the second one, and you will be late.
Small breaks between interviews will allow you to refresh, stretch your legs, and rest. Most importantly, these breaks will help you prepare software and questions and ensure that the interview will go as planned. 
Poor scheduling practices will lead to inefficient interviews and a negative impact on the reputation of your company. If you have a set amount of time to perform an interview, separate it into multiple sections.
This will allow you to keep track of the duration of each interview and ensure you are on schedule. 
Be realistic regarding your capabilities. Actively listening to multiple candidates over the span of a few hours can be tiring. Understand how many interviews a day you can conduct effectively and avoid overbooking yourself.
3. Listen to Your Candidate
Yes, it's obvious that you should listen to your candidates, but how many recruiters actually pay attention?
If you don't ask candidates follow-up questions or give them feedback to what they are telling you, you can lead them to believe you're uninterested. 
A lack of curiosity from your side can cause the hiree to feel less confident. You will be able to see the body language of your candidate and understand how they feel about certain topics. 
If you notice that they are nervous about specific questions, you should dig a little deeper to try and discover the source of their insecurity. This can be a regular feeling of anxiety that people have when going through something important, or it can be a sign that they are trying to hide their incompetence.
4. Discuss the Company Itself
Every company has different business processes. They vary depending on the field in which the company operates. 
If the applicant's technical skills meet the requirements, you should introduce them to the vision and mission of your company.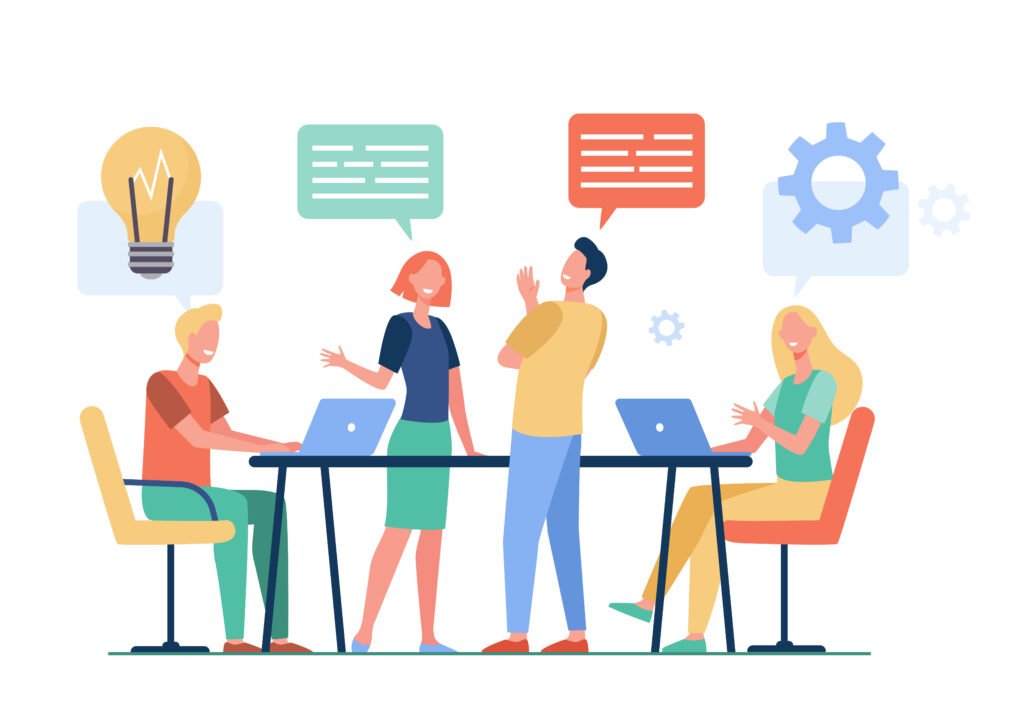 Workplace culture and productivity standards are some of the main aspects that can either attract or discourage an employee. If the applicant's personal values don't match the ones of your company, then both sides should be straightforward about that. 
Team-building activities and software your company works with are also useful to mention to a candidate, but that shouldn't be a priority in the early interview stages. 
We often have much more distractions at home than at the office.
A family member that wants to ask us something, children running around, or a neighbor that wants to be a rockstar. All of these distractions can disrupt the flow of your interview.
While you can't control some interferences, you should keep in check the ones you can. You need to make the members of your household aware of your online meetings and disable devices such as alarm clocks, smartphones, and other nasty noisemakers. 
If you regularly conduct interviews from home, you should set up a home office. Ideally, this would be done in a secluded area of your house where you will have zero distractions.
6. Deliver a Strong Close
The end goal of a job interview is to benefit both the company and the candidate. The goal of every recruiter is to bring those benefits. 
They are landing their dream job, while your company is welcoming a brilliant individual into their team. 
An interviewee should be given an opportunity to tell you whatever extra information they find beneficial. Perhaps you didn't include a crucial question that they find meaningful. If this is the case, consider implementing additional questions in future interviews. 
No matter whether you hire the candidate or not, it's vital to be straightforward and be honest about whether you're going to follow-up. If you make a promise, make sure that you commit and meet their expectations.
7. Explain Challenges of Remote Work
You should introduce your future workers to challenges that they might experience at their workplace.
Each remote company has different ways of monitoring the performance of employees. Some of them more efficient than others. 
Key performance indicators, time-tracking, and screenshots or daily reports are all useful for making sure that employees do their jobs.
Some people don't like when employers have such control and insight into their work, which is fine, but make applicants aware of those methods in advance. 
Some companies offer flexible work hours, while others have a fixed schedule. A candidate that is in a time zone different than yours can have trouble working on a fixed schedule. This is a matter that needs to be discussed during the interview. 
Interviewing Should Be Improved Constantly
If your company has just started hiring remote candidates, you can expect some setbacks at the beginning. Running a business is a marathon rather than a sprint and the only thing that matters is constantly improving your operating procedures. 
If you aren't interested in learning all the details about interviewing future employees, you can let a recruitment agency do that for you.
Balkan Based already has a prepared database of potential employees that have been interviewed and their skill sets assessed. The only thing they are waiting for is to finally meet you.
While remote interviews have their advantages they also lack a personal touch. You can mitigate the proverbial damage by using the extra space you have to prepare a more thorough interview process. This will allow you to capitalize on one of the greatest benefits of remote work.